Poles on vacation
---
The Iron Curtain long excluded Central and Eastern Europe from international tourist traffic. Due to a limited tourist offer, people from the region seldom traveled, and their life's dream was a package tour to Bulgaria. We have decided to see how travel habits have changed in Poland over the last few years, and where the Poles are going to spend their vacation this year.
For Poles, vacation travels still count among luxury goods. On average, one in two people takes a vacation away from home, but this mostly refers to the wealthier segment of society. Three-fourths of the wealthiest Poles (the 5th quintile) say they are going to travel, while only one in three of those with the lowest income (the 1st quintile) is going to take a vacation away from home. While it is common for people to fail to take a vacation away from home due to a low household budget or the lack of time, one in seven Poles actually prefers to stay at home.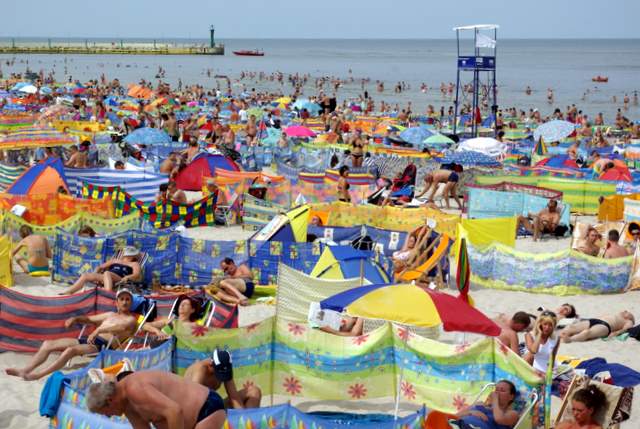 A typical summer day in Łeba by the Baltic Sea, a popular holiday destination.
Not surprisingly, most of all vacation travels take place in July and August. Unlike people in Western Europe, Poles generally enjoy travelling inside the country. One of the reasons might be that they prefer to make all their travel arrangements themselves, and rather than staying at a hotel or bed-and-breakfast, they choose their family's or friends' spare bedroom – as almost two-thirds of those who travel locally intend to do.
One could think that travel agencies in the Polish market have a hard nut to crack. Far from that! Over the last few years the international tourism sector has grown by 14%. As it turns out, a vacation on a Greek island or Egyptian beach with guaranteed perfect weather and warm sea is much cheaper than a stay on the coast of the capricious Baltic Sea.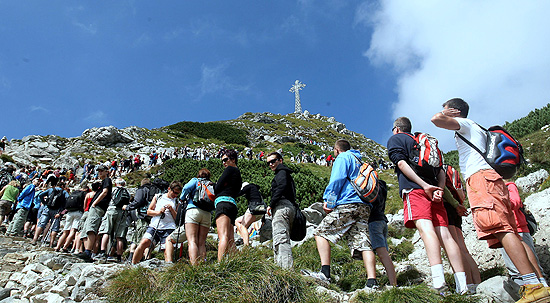 Tourists queuing for the most popular summit in the Tatra Mountains, Giewont.
According to estimates, one in three people taking a vacation away from home will go to Greece. The second and third most popular foreign destinations are Turkey and Egypt respectively (tempting Poles with affordable prices which seem to offset any political instability). Along with Croatia and Bulgaria, they account for 80% of holiday spots visited by Poles.
Most Poles believe that vacation is for resting so only few choose to see new places or improve their skills at summer courses. Those who decided not to travel abroad will go to the sea or to the mountains; most of them will stay in Władysławowo (by the sea) or Zakopane (in the mountains). For those who appreciate peace and quiet, we recommend the beautiful Polish lake districts, such as Mazury, and for those into heritage tourism, a visit to Cracow and Wrocław will be a good choice. Have a great holiday!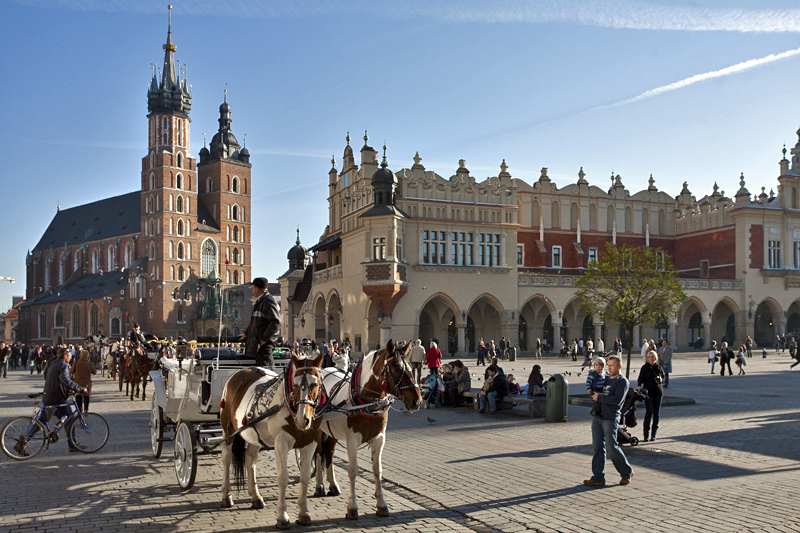 The Old Town Square in Cracow is one of the most popular touristic spots in Poland.
---

At Inquiry Market Research, as much as we love discovering consumer behavior and habits, we also enjoy a lazy summer afternoon in our office garden.